Posted on July 27, 2010
Filed Under Climber.com, Mike O'Brien | Comments Off on New Gizmos from Gizmo Kingpins! Reintroducing An Old Friend, Mike O'Brien, CEO at Climber.com
Call the team at Climber: 619-618-4201
I have known Mike over the last several years and not only do I call him and his Executive Vice President, Nick Jimenez, genuine friends – I view what they are developing as truly game changing in many respects. They not only speak the language of social media and understand the gaps in the old model of job boards – they have a vision of what's next and are refashioning "what's now" into something that will endure. They will be surprised to see this update on an article of two years prior … as you will. I see enough of what they have developed since that time to know that you will see, as I do – that they have come a long way since they first hit the cover of SixDegreesfromDave into something worth talking about. Quite a few things in fact …. let me reintroduce you first my friends to my mohito toasting friend,
Mike O'Brien
!
Top the Search Engines: 80% of Recruiters Search for Candidates. Are They Finding You?
Unsurpassed Candidate Marketing: Actively Market You to 70K+ Recruiters through Email, RSS & Twitter
Power Career Networking: Network with Recruiters who Follow Your Career
Freshest Jobs on the Net: Conduct one Search and Get Fresh Jobs from many Boards
Michael (Mike) O'Brien is currently CEO of Climber.com The company produces a Recruiting Platform that helps today's Recruitment Professionals source Qualified, Available and Interested (QAI) Candidates by combining advanced techniques like Career Purposed Social Networking™, Search Engine Optimization and Video with traditional online recruitment strategies like job postings. Through his leadership and vision Climber.com has gone from concept to one of the most innovative companies in the recruitment space. For its members, Climber.com offers an anonymous platform to network with recruiters and hiring managers who can help advance their careers. For organizations, the company offers cutting edge products such as Search Engine Optimized Microsites, Video Job Postings, and a Social Recruiting Platform known as Catalyst. In June of 2007, AC Nielsen named Climber.com the tenth most visited career site. Climber.com has been featured in the Wall Street Journal, US News and World Report and Media Life Magazine.
Mike was most recently co-founder and CEO of financialaid.com, a pioneer in providing college finance solutions online. Founded in 2000, financialaid.com became one of the most successful student loan companies in the U.S., capitalizing on Mike's direction and innovative Internet marketing strategies. Today, financialaid.com funds more than $45 million in student loans each month. At financialaid.com, Mike conceptualized and created CampusDirt.com (at the time, the number one online college search engine), RateYourCampus.com (online feedback community) and CampusClix.com (a college social networking website). In October of 2004, Mike sold financialaid.com and properties to Education Lending Group (now Student Loan Xpress) which in turn was purchased by CIT (NYSE: CIT) for $400MM in January 2005. He remained CEO/President of financialaid.com until his exit in December 05.
Utilized as a media expert in higher education finance and Internet marketing, Mike has been interviewed by numerous national television and print news media — including The Wall Street Journal, CNBC, NBC Nightly News, Fox News Network, the Chicago Tribune and Kiplingers — regarding the widening college affordability gap and the resulting growing demand for student loans, student loan consolidation and online marketing trends. Mike also has delivered speeches on Internet marketing trends and techniques at the CEO West Conference (Collegiate Entrepreneurs Organization) and the National CEO Conference in Washington, DC.
Six Degrees: Tell us of your home world, Mike
Mike: Married and a dad. I have three boys. My oldest is Grayson he will be 4 in November, My middle boy is Lincoln. My youngest boy, Justice. We are thinking about having one more… trying for a little girl.

I am an avid runner. I started running a few years ago and by the age of 36 I have completed 4 half marathons. In 2007 I ran the ING Bay to Breakers in San Francisco which was a blast.
In my last business, I appeared on the reality TV show "Starting Over" to help a woman re-enter college. It was awesome being able to help out a person in need and see the way a reality show is put together.
I have been a Board of Director of the Fresno State Alumni Association and stay committed to helping people looking to better themselves though education.
Six Degrees: How did you get started in the staffing industry?
Mike: I fell in love with the recruiting space in 2003. Nick Jimenez invited me to come to a ERE trade show and see the technology that existed. I was amazed at the lack of innovation at that time. Even though the world had move to the web, there was little technologically that was making a recruiter's job easier. In fact, the big boards were compounding the problem by sending more less qualified resumes that ever before. I thought there must be a better way and Climber.com was born.
Six Degrees: What single event had the most impact on your sourcing/recruiting career?

Mike: I think the ERE Trade that I mentioned earlier had the most impact on me. It was there that I was baffled that technology had not solved the people problem. Everyone knows what the problem is, but, there is little incentive to improve the recruitment process until corporate leadership and HR's goals are aligned. Most people speak about 'A' Talent, yet they are measured by statistics that ultimately equate to buts in seats.
Do you have a mentor to whom you attribute your overall outlook on recruitment, capabilities, and/or model your career after?
Mike: I have been lucky enough to be surrounded by some great people. Each day I learn more about the industry from Nick Jimenez. I also have been lucky enough to hear some great speakers like Jeremy Eskenazi who have had a positive impact on me.
Six Degrees: (A) What other companies' recruiting operations do you admire or have heard are best-practice examples?
Mike: I love companies who understand how their employment brand differs from their overall company brand. Starbucks and Google are great examples, but ING Direct and Net App both resonate with our user base as well.
Six Degrees: (B) In what aspects are they superior?

Mike: All of these organizations understand that the Employment Brand encompasses the every interaction between the company and prospective employee. It continues even if a person has not been selected. These companies understand that their prospective employees in many cases are also customers.
Six Degrees: What recent general news story or industry trend do you feel will have an impact on your work in the future? Why?
Mike: Even in the current economic state there is a war for talent. I think the impact of the boomers retiring will have a big impact on where organizations are going to have gaps. Our focus as a company is helping organizations get to unique sets of candidates as the younger generations shy away from the big boards and choose other avenues to find a new employer.
In our next issue – I'll introduce What's cool tomorrow that's actually available for you – today!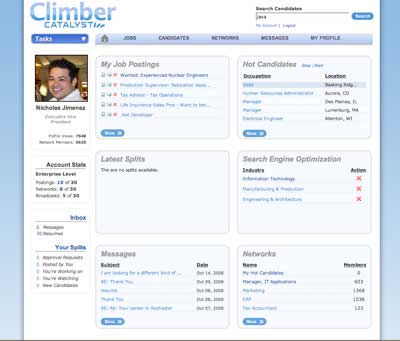 CLIMBER'S FAQ
I am not actively seeking a job now, can Climber Premier help me get recruited?
Climber Premier helps you build a personal brand and creates a way for recruiters to find you when they search in the major search engines through our search engine optimization technologies. Even if you are not actively looking, creating a personal brand helps establish you as a leader in your industry. Plus, employees who are recruited for a new job earn 15% more on average compared to those who applied for the job.
What is a Career Fingerprint™ and how do I get one?
The Career Fingerprint™ is a visual representation of your career value set.
What is the process for creating a Career Fingerprint™ and Climber.com profile?
As a Climber you'll undertake our patented work values assessment process, which tracks your views on different aspects of yourself and your work life. Once completed this generates the Career Fingerprint™, which assigns your points across seven different key dimensions – Leadership, Environment, Compensation, Innovation, Social Factors, Prestige, and Social Values. Then, the Climber.com profile section asks a series of questions that help Climbers identity what they are most passionate about.
How does Climber.com match me with prospective companies?
This is the magic! Your Career Fingerprint™ and each target company's DNA are compared to find the best environments for you. Additionally your basic skill sets are evaluated against hundreds of thousands of companies to complete a match.
What is a company's DNA?
A company's DNA goes beyond the heartbeat of a company; it's what drives that heartbeat; the workplace values and vision that make up the core of an organization and motivate its best and most talented employees. At Climber.com, we have developed a methodology to identify a Company's DNA that allows us to ensure that our Climbers can make the perfect match with their prospective employers.
How soon will it be before I start receiving requests from employers to review my profile?
We believe in matching you with companies whose company DNA aligns well with your Career Fingerprint™. You may find that we already have the perfect job waiting for you! If not we'll keep looking and when we find the right opportunity, we'll contact you.
Can I search for jobs or do I just sit back and get recruited?
You can search jobs and invite companies to review your profile. So, if you are actively looking for a new job you can prompt recruiters to look into your profile, real-time.
I just want to look for jobs. Is this the right site for me?
There are plenty of job sites out there. What we do best is help you understand yourself and reveal what types of jobs/companies you will best fit. This entails completing a workplace values assessment process and answering some thought provoking questions. Climber.com is not a 'done and done' process – we're a career advancement tool that can help you throughout your working life. As you develop new interests and skills, your Climber.com profile will change as well, allowing companies to review the most up to date and relevant data about you at any time.
I am a recruiter or company who wants to find the best people for our open positions. What do I do now?
Climber.com is very selective about our partner companies. If you feel that your company offers a dynamic, forward thinking environment, please contact Nick Jimenez at nickj@climber.com.
Comments