Posted on December 24, 2014
Filed Under Family | Comments Off on MY ANNUAL TRADITION – THE EL DAVE LOVE LETTER TO THIS YEAR'S PASSING ….MERRY CHRISTMAS & NEW YEARS!
Posted on October 23, 2014
Filed Under Interviews, WebVideo | Comments Off on Tiger Mother Rearing For Success?
Posted on September 18, 2014
Filed Under Workplace | Comments Off on How to Embrace Change and Make it a Workplace Asset
No matter what your chosen occupation might be, you're bound to experience change in the workplace at some point. Whether dealing with updated management systems, new personnel, or advances in technology, employees who can go with the flow bear a distinct advantage over those who struggle with change. It's a natural urge to fight change, particularly when you feel that you've mastered a given situation. Yet flexibility and adaptability in the office can be great assets which can help you grow along with your business.
The Advantages of Flexibility

Adaptability in the workplace bears benefits for both employee and employer. From the employee's side, embracing change provides a way to grab opportunities when they arise. Employees who are unwilling to tackle new challenges and go out of their comfort zone may miss out on opportunities for advancement. Flexibility can be a boon for those who want to strike a better work/life balance, allowing workers to telecommute or pick up odd shifts. In a dynamic, shifting workplace, flexibility allows you to adapt to change quickly and reduce stress. From the managerial point of view, flexibility also creates a more balanced workplace.
Changes in Processes
There are a number of benefits to adaptability, but how do you learn how to embrace change? It can be frustrating when the company you work for implements new systems and processes. To ease this transition, it may be helpful to keep a log of these changes and how they work in real life. If you notice that a particular change to work processes is decreasing workplace efficiency, keep a tally of how and why this happens so that you can tweak the system together with a supervisor. This shows a proactive attitude to changing systems.
Changes in Personnel
Whether you are a receptionist or CEO, chances are that you'll need to interact with a variety of different people throughout the course of the workday. The cast of characters you deal with in the workplace will vary over time as well, with rotating co-workers, clients, and suppliers. It's particularly important to learn how to adapt to new personnel, who may have different modes of communication or learning styles. You may have learned how to prepare a meticulous daily report for your old manager, only to find out that your new manager prefers an informal chat session at the end of the week. Observe your colleagues' preferred methods of communication and try to adapt to work with them in the most positive ways.
The Bottom Line
Changes to workplace systems and communication methods can be challenging, but by maintaining a positive attitude throughout times of change you'll prove your worth as an employee. Some degree of flexibility can help the entire organization move forward, despite growing pains along the way. Your ability to advance along with these new systems will show that you're ready to tackle challenges head-on.
Posted on June 12, 2014
Filed Under Interviews, Networking | Comments Off on In Remembrance of a Life Lived Sweetly: Meet Marie Journey, Sourcing Enthusiast – "Listening Within A Constant Sea of Voices & Heard" RIP
In remembrance …. We mourn the passing of the sourcing community's beloved Marie Journey.

Recruitfest 2009 Strategy to Reality – Marie… by JourneyInTheNow
Marie Quotables: "A Sourcer brings much more than the ability to rattle off a complex Boolean string, a database of names, or niche product knowledge – A Sourcer is often the front line and first representation of a company. A Sourcer knows OFCCP inside and out. A Sourcer uses the finest tools at hand to create a talent pool. There are endless other examples of value that a Sourcer brings. We organize and use data to build relationships."
"Easy, you just help other people … When people are needing food and mortgage money, there were no splits, no markers, and no thanks needed. Most never knew my hand was there at all. How did this help me? It didn't in terms of money or recognition. It was priceless in terms of ability to break every previous personal production record, stretch my network a thousand-fold, and be in finest form for my next role."

• RecruitingBlogs Profile
Marie Journey
• Sourcing Extraordinaire & Sweet Tea Enthusiast
• Location: Navarre, FL
• Linkedin
• Facebook
• Twitter
• Website
• Company
• Community Volunteering: Volunteer at the local elementary school and helping women out of abusive situations.
• Personal Causes: Working with children that are wired differently, helping families of deployed military, and being there for women in need.
• Office: 678.779.6619
• Personal Email
Our mutual friend, Steve Rath, was kind enough to introduce me to Marie Journey and the more I inquired – the more I learned how many fellow travelers we have in our lives. Marie and I share the same ecosystem of sourcers to social networking enthusiasts and a passion for passing it forward. She is a rock star with10+ years recruiting experience, and contributed to talent development in five languages (Spanish, French, Portuguese, German, Japanese) in both Corporate as well as Agency Environments; working with one of the largest for profit organizations, Microsoft, as well as one of the largest non-profit organizations in the world, AIESEC. She has presented at Recruitfest 2009, been on on Jim Stroud's Recruiters Lounge, and among fellow gurus as an attendee at each of the last two Sourcecon conferences. Marie is also one of the pioneers in video SEO for high demand reqs; she was able to get 1st Page Google, 1st Rank for key skill set within 48 hrs of launching the following video: http://budurl.com/hogandev
Q & A with Marie Journey
Six Degrees: Tell us of your home world.
MARIE: My world comprises of people I love that live with me, next to me, and all around the world. My feet are in Paradise AKA Navarre, FL. As far as family goes, if you can order sweet tea, it is likely one of my blood kin from my mother's side is nearby. You'd have to travel the seas to encounter rest.

A sweet, chocolate eyed, mad scientist in the making that holds both Martin Luther King, Jr. and Albert Einstein close to his heart calls me Momma. His name is Julian age 7 and he is a miracle child many times over. A wild burst of energy, that flies across any ground and launches into my arms is Ian, age 6. Then there is Miss Kayla who will change the world for the better with her passion for science, animals, and justice that is age 10. Jared's silence speaks loudly in the near constant sea of voices; he can sum up a person and motivators within seconds, age 8. Simply put, single mom of 1 and official back-up Daddy to 3 more when their father is deployed.
MARIE: All the children gather one evening every other week for a sit down meal and the Extreme Play Date begins: we build robots, conduct science experiments, fiercely debate merits of Pokemon, and dance to hundreds of random questions. In the rare moments of me time, I devour a book a day. When stress weighs too heavy or I need a bigger dose of escape, it is power tool time. Have a flare for blades and dying to get my hands on a 26 inch Katana to continue Japanese sword fighting lesions. Painting abstracts along with photography feeds the creative side. Checking out new apps is another favorite. Love all types of tools for creating be it an iPhone, Dremel, brush, or camcorder.
The future holds – a nonprofit called the League of Competent Woman that attracts strong ladies looking to make a positive change by promoting and protecting both women and children through changing/enforcing laws, providing an extensive network of resources, and mentoring.
Until my house remodel is complete and the greyhound rescue dog of my dreams comes home to us, my only pet is my laptop, Vixen. She is smoking hot and holds her own.
Six Degrees: How did you get started as a recruiter?

MARIE: I started 10+ years ago during my time at AIESEC, which was one of the largest non-profit orgs in the world second only to the Red Cross at the time. With AIESEC, there was International recruiting, business development, marketing, and a mission to better the world.
After AIESEC, I went on to be an international logistic consultant designing automotive factories in cool places like Brazil and Germany. 100% international travel, worked on multi-national project teams, learned a great deal about other cultures and business practices. Had fun reworking highly complex systems with thousands of variables, designing with AutoCAD in five languages, being humbled by the brilliance of great minds, and even got to dance with the Portelas @ Carnival in Rio. Why go back to recruiting?
When I returned to the United States for love, I had the opportunity to choose a different career path. Decided to return to recruiting and found that the career break helped me immensely by gaining skills sets that are often needed and hard to gather on the typical recruiting career path.
Six Degrees: What types of training in sourcing/recruitment are available to you and have you taken advantage of?
MARIE: For years, I have been absolutely relentless in the pursuit of sourcing/recruitment training. I have taken One on one training with National Sourcing Expert, Shally Steckerl. I could list out a couple of hundred, but generically –Taken massive training on OFCCP and even designed training manuals. Did every available session on Diversity and wrote several more training sessions. Any ATS used, I worked to become a super user at warp speed. Went outside of traditional recruiting/sourcing and took training on tech/marketing/system optimizations and courses that involved the current niche or sector of talent. Training is essential to know the law, the space, the MVPs, how to connect, how to present, and then how to close in shortest time possible.
Six Degrees: What single event had the most impact on your sourcing/recruiting career?
MARIE: The moment of silence from Shally, when he decided if I was serious or not and how to respond to my request for what I would like for him to teach me. Okay, he probably had the mute on and was laughing his back-side off, but he proceeded to first drill me on what I knew, tell me what I needed to learn, and ticked off points to help make it happen.
Do you have a mentor to whom you attribute your overall outlook on recruitment, capabilities, and/or model your career after?
MARIE: To survive your first week in recruiting you had better have a strong mentor or an example of a person that has it figured out. There are hundreds that have knowingly or unknowingly helped along the way. For recruiting/sourcing successes you can bank that one or more of the following were a factor (listed in alpha order by first name):

1. Barbara Marks – watched her flawlessly perform recruiting miracles and hiring manager interfacing magic for years. Generous of heart and would stop my desk for her anytime.
2. Burt Black – taught me tech recruiting, a multi-million dollar producer for over ten years, and has been a true friend to me for over 15 years.
3. Chandra Bodapati @ Egrabber – creates the tools that make me drool on myself.
4. Chris Havrilla – queen of empowerment, legend in the field, and always one of the 1st gen adopters of doable/usable tech.
5. Dave Copps – had me at AI app.
6. Eric Jaquith – listening to him is pure beneficial bliss to any recruiter or sourcer. If you need to "Miracle Grow" your system, he is the man with the plan.
7. Geoff Webb – geek that gets social networking, sourcing, and keeps the space lively. We are in the middle of a friendly yet fierce challenge: http://bit.ly/geekchallenge
8. Jeffrey Rosado, at Pensacolaco Computers – he opened the door and let me out of the box. Smartest guy in tech I've ever met, taught me how to get 1st page/top rank in Google (SEO Amazing Man), created Vixen (My smokin' hot, voice activated laptop), and fully stocks my software addiction with professional grade product!
9. Jim Stroud – his reach is so vast in terms of training, involvement, and accomplishments; I am one of hordes that owe him credit.
10. Kay Kelison – brilliant social networking and researching talent and flat out one of my favorite people for talking shop with, future trends, or just about anything.
11. Marjorie Mancini of CVTracer – created an ATS that actually does what you need in recruiting with the fewest clicks possible. She has also been a light of inspiration. One woman that has done so much in this field!
12. Rob McIntosh – if you are in Sourcing you owe this man thanks.
13. Rodney Walden – Showed me stuff on InfoGist I didn't know was possible, got me on to LinkedIN years ago, and always makes me laugh.
14. Shally Steckerl – gave the advice I needed to hear at just the right time.
15. Sharon Meyers – awes me with her sourcing talent in both the national and international space. This lady has to use a fire hose for her talent pipe.
16. Steve Rath – put together one of my favorite recruiting teams, forerunner in Sourcing 2.0, pays it forward, and I've had the pleasure of watching him be stellar in the industry for years.
Any mistakes made along the way have been 100% my own doing!
Six Degrees: (A) What other companies' recruiting operations do you admire or have heard are best-practice examples?
MARIE: Any shop that Rob McIntosh or Chris Havrilla is running.
(B) In what aspects are they superior?
MARIE: Rob can whip out Excel spreadsheets, PPT presentations, and flowchart his superior methods. Love the quantifying of what most would consider intangibles. Chris Havrilla is the finest cherry picker of talent and can create magic with her managing style and in depth understanding of how to be effective in not only today's market, but tomorrow's as well.
Six Degrees: What recent general news story or industry trend do you feel will have an impact on your work in the future? Why?
MARIE: As tech improves and people like Dave & Chandra come up with these groundbreaking, time saving sourcing tools…why do companies need "Sourcers"? A Sourcer brings much more than the ability to rattle off a complex Boolean string, a database of names, or niche product knowledge – A Sourcer is often the front line and first representation of a company. A Sourcer knows OFCCP inside and out. A Sourcer uses the finest tools at hand to create a talent pool. There are endless other examples of value that a Sourcer brings. We organize and use data to build relationships. Bring on the best Tech!
Six Degrees: Tell us about your broader involvement within the staffing industry:
MARIE: Attended both SourceCons and was asked to speak at RecruitFest! 2009.
Six Degrees: Can you detail how the recession has affected your particular industry niche? Has it effected your job or that of your fellow team members within the organization?
MARIE: When Microsoft has massive layoffs you know it is going to be a rough road. As a MS Prospecting Consultant via SearchWizards, I got the call right in time for Christmas of 2008 that the whole team was toasted effective December 30th. What was the experience like for a single mom, in Tech Recruiting, that has always worked? Well, having twins without an epidural in the Amazon would have been less painful and shocking. Like childbirth, I'm glad it is over, joyous at the bright future ahead, and will not be sending pictures/videos/or play by plays of the process.
Six Degrees: Aside from simply the generic term "Networking" what specific efforts have you made on your own behalf, or on behalf of colleagues to broaden your opportunities?
MARIE: Easy, you just help other people. I answered that question, "If you had to do your job for free would you do it?" Yes, I sure would and did within the week of being laid off. I went from recruiting on behalf of Microsoft to pipelining any viable jobs that were open.

It was fast and furious work and mostly done in stealth mode. When people are needing food and mortgage money, there were no splits, no markers, and no thanks needed. Most never knew my hand was there at all. How did this help me? It didn't in terms of money or recognition. It was priceless in terms of ability to break every previous personal production record, stretch my network a thousand-fold, and be in finest form for my next role.
Six Degrees: Given your own Trial and Error experiences as a Networker, what advice do you have for your peers on what NOT to do?
MARIE: Never take complete credit for any success if there is the slightest possibility that you can share the credit with somebody else.
Six Degrees: What is your next career goal? What do you need to do to get there?
MARIE: Take a high need skill set, create a video campaign, work with corporate Marketing, and then track results for both recruiting and sales.
For example, if you Google:
"Hogan developers" job
The 1st Page and 1st Rank has been one of my videos from launch weeks ago until the moment of writing this. Jim Stroud was the first to introduce me to the idea of using video to reach candidates and Jeff@pensacolacomputers.com has been teaching me the SEO and backend side of ranking.
Really wanted to work the SEO angle without any corporate branding or specific job to see what would happen in terms of rank as a control. Now the next goal is to add the corporate branding along with buy in and marketing resources in order to incorporate a much broader social networking strategy and own the space. Recruiting wins low cost renewable pipeline with shorter fills and less production loss. Marketing wins name recognition and increased revenue. All I need is company that likes the notion of prime market position
Using Your Geek Card Lately?
This profile is one in a series titled Monday Member Showcase. It was originally published on RecruitingBlogs.com, a recruiting and HR community, where I am a featured contributor. To read the whole series please click here.
Posted on May 17, 2014
Filed Under Blogging For Talent, Default, Employment Branding, Jobs, LINKEDIN, Marketing Technology, Professional Conduct | Comments Off on THE NAUGHTY "CANDIDATE EXPERIENCE" LIST – Secret Shopper Phenomenon Expose
THE NAUGHTY "CANDIDATE EXPERIENCE" LIST – When recruiters delete recruiter CV's without opening them you have a problem at your org:
"In an industry as tightly-knit of familiar faces – what does it say when recruiters, Talent Managers, etc delete fellow corporate TA emails to be considered without being opened? It says horrible things about a vocation we believe to be principled in asserting candidate centric relationships. You may have done it yourself and not thought it would be noticed. Technology solved that dirty laundry from being hidden years ago.

Find out in an upcoming expose article about the silent 'do what I say not as I do" about candidate experience …. the winners and the naughty list among top branded companies – by yours truly, outlining my secret shopper's experiment using my own and by referral communications to spot consistent practices."
Posted on December 9, 2013
Filed Under Futurecasting Social Data, Talent Acquisition | Comments Off on Ten Critical Considerations Towards Establishing A Successful Talent Mapping Strategy
In the course of my research, formulating a successful talent mapping strategy requires ten considerations to ensure successful execution on behalf of a corporate talent acquisition organization:
1. What universities and trade schools do competitors invest resources in?
2. What are the most common, identifiable patterns that reflect sources of hire among key competitors?
3. Who do they hire from, and are there commonalities evident within job title descriptions?
4. What product verticals align most appropriately to corporate offerings, and are the skillsets involved consistent?
5. What terminologies signify quotas exceeded established norms within a competitor's sales organization and can we establish a baseline for industry baselines in measuring performance?
6. What are key indicators of recognition and awards among key business functions such as R&D and sales?
7. What is the average length of time identified to progress from a graduate intern to a software architect or management role?
8. Has your organization selected a platform as a depository to archive the critical data inputs established above?
9. Has your talent organization organized these critical data inputs within a framework of a 'Talent Knowledge Library' and made it available at an enterprise level, and is the data accessible in real-time?
10. How do all the above compare to the organization's own, internal talent acquisition functions in determining source of hire, and how can that knowledge translate into actionable improvements in time-to-fill and cost-per-hire?
How do all the above questions factor in terms of codifying best practices in the organizational process of your talent acquisition strategy?
Posted on December 6, 2013
Filed Under Branding | Comments Off on How to Plan an Epic Christmas Marketing Campaign
Retailers can expect a jaw-dropping $68.9 billion in sales over the holiday period as consumers spend up big on holiday gifts for family friends, according to new research from IBISWorld. But as one of the busiest periods of the year fast approaches, what are you doing to maximize the holiday shopping rush for your business?
The holiday season is an ideal time for brands to kick into gear and step up any marketing or promotional activities. It's the time of year when people are prepared to spend, and are looking for the right opportunity to do so.
1. Determine your campaign strategy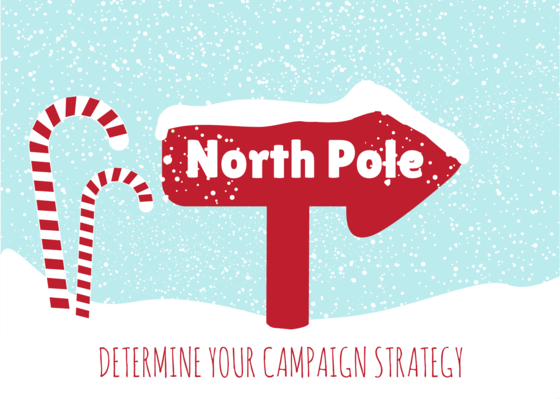 So how do you create a good campaign for Christmas? UK retailer John Lewis has received an overwhelming response to its
2013 Christmas Advert
; the YouTube video has been watched more than 9 million times and generated an impressive amount of social chatter. This complemented a traditional media campaign.
Moz blogger James Porter looked at what made this campaign successful. Sure it was an expensive campaign, but there's lessons to be learned, even if you've only got a small budget. Porter suggests one of the reasons the campaign has done so well is that it was created specifically for the channels where potential customers are located. In fact, the campaign wasn't even launched on the John Lewis website — it was launched first on Twitter and Youtube.
Start planning your campaign as early as possible to maximize potential to reach your customers. One of our favorite campaigns this year came from Coke Zero, and launched almost six weeks out from Christmas. The company created an online sweater generator, and asked people to create their own tacky Christmas jumpers. Coca Cola got some great coverage of their promotion (FastCo, PSFK, AdWeek and others) and generated lots of social media buzz.
2. Update your marketing collateral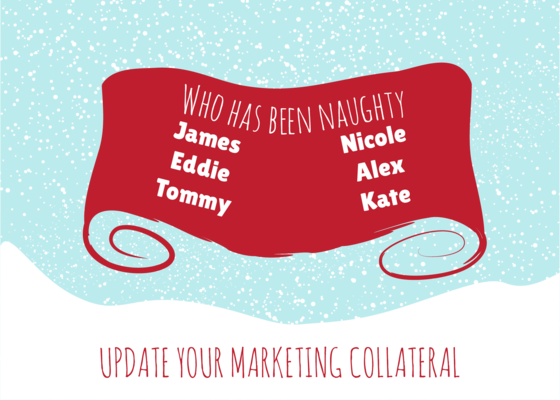 Christmas is the perfect time to refresh your marketing materials. If you are a retailer, try developing a Christmas gift guide or updating your branding with a seasonal look and feel. For service businesses, think about how you can tap into the holiday buzz. Hairdressers could try and target people who want to look their best at their Christmas party, while carpenters may offer a special package to anyone wanting work done before the holidays.
Canva launched their Christmas campaign around a new feature allowing people to send their own cards. They updated their Facebook cover and profile picture with a refreshed Christmas branding; the same look and feel has been carried across to their Twitter page and website too. This is something that's easy to do, yet increases awareness of your holiday promotion.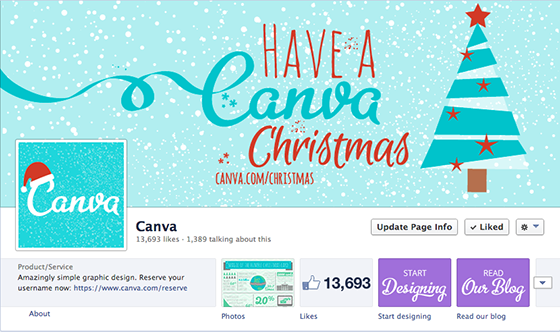 There are lots of other ways to get into the festive spirit. Here are a couple simple ideas:
Holiday gift guide. Putting together a holiday gift guide can be a great way to promote your holiday promotional activities. Online clothing retailer ASOS has created a special splash page for the holidays and produced a number of snappy Youtube videos with great gifting tips.
Seasonal company information. Are you extending your opening hours over Christmas? Or if you're online only, have you got deadlines for Christmas orders to be delivered? Updating your customers with this information keeps them in the loop. It's also a good excuse to reach out to your existing customers.
Christmas vouchers. An impressive 61% of gift card holders spend more than the amount of the card. You can use this knowledge to boost Christmas sales. Another tip is to use 'artificial advancement' in any loyalty programs you offer. Research shows a pre-stamped loyalty card results in better customer loyalty.
3. Make your customers feel extra special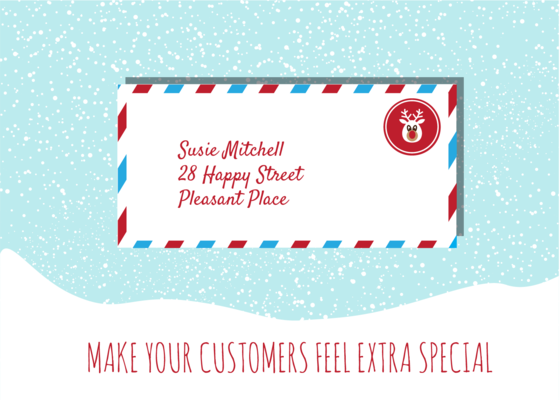 What are you doing to make your existing customers feel special? Online store provider Shopify argues that the best selling proposition, particularly for small companies, is amazing customer service. A great blog helps, such as the one written by the team at Quality Logo Products. The holiday season provides the perfect excuse to do something nice for your customers.
Offering customers a small gift or freebie can be a nice way to say thanks to people have supported your brand during the year, and also encourage them to come back again. Another way to do this is to organize an event for your biggest supporters. You could even host a VIP sale night or put on some Christmas drinks.
What are you doing to maximize the holiday rush? Share your tips below.
Great insight from Zach Kitschke, Head of Communications, Canva

Posted on October 28, 2013
Filed Under Best Practices, Big Data | Comments Off on Keller & Stakelum: The Essentials of 'Little Data' Within The Talent Data Conversation
Little Data – It's theoretical and methodological DNA play focal point to the Bigger Ambitions that follow

One of the areas of common discussion within the recruiting industry surrounds the notion of Big Data. The idea that we can better identify people for opportunities that become available by bringing together various sources of information on candidates and employees is conceptually appealing but often challenging in practice.
Humana has partnered with a research team from the Wharton School to work through many of these challenges in an effort to unlock the insights that are hiding in data that we already collect. In doing so, we have adopted what is best described as a "Little Data" approach to our analysis. The term "Little Data" refers to the myriad sources of data already available to companies about their associates, candidates, and recruiting processes; information that is collected during the regular course of business. A "Little Data" analytical approach involves finding and combining these various data sources and using advanced analysis of that information to determine trends, patterns and possible success indicators to provide a more valuable view of the talent that is available in an organization and to then maximize its use in helping to make that talent more successful.
"There is a great deal of general performance information that is available to most companies but the challenge is that the information is not as integrated as it could be" says Kevin Stakelum, Director of Talent Acquisition at Humana. "The theoretical and methodological advances we have made through academic research allow us to analyze and assess this information in ways that are not always available in corporate settings" commented JR Keller from The Wharton School.
Compared to "Big Data", this "Little Data" approach is still in the early stages of development but is beginning to show results that we feel are quite promising. Many organizations would greatly benefit simply through making better use of the "Little Data" that they already possess – the data that is most likely to inform everyday conversations with business managers. This includes data on talent acquisition, compensation, employee performance, employee engagement and development, data which is frequently housed in different databases and is often "owned" by different departments. The promise of making connections between these data sets lies in the ability to solve problems and enhance decision-making. It can help to answer questions such as, "Which sources deliver the highest-performing new hires?" and "Where should we devote more resources to internal sourcing?"
As the teams at Humana and Wharton continue to partner and refine the findings, we will continue to build out the answers to the questions listed above, but both partners are really excited about the possibilities that they are seeing as a result of the partnership.
About The Writers

JR Keller (jkel@wharton.upenn.edu) is a doctoral candidate in the Management Department at The Wharton School. His research focuses on how firms combine internal and external talent sourcing and acquisition strategies to meet their human capital needs. He has published papers and book chapters on the decision to hire externally or promote from within, supply chain approaches to talent management, the use of nonstandard work arrangements, and talent management more generally.
< a href="https://www.linkedin.com/profile/view?id=1342167″>Kevin Stakelum (kstakelum@humana.com) is the Talent Acquisition Director for Humana Inc., a Fortune 100 wellness company located in Louisville, Ky. As the leader of Talent Acquisition, Kevin creates the strategy and provides the leadership and direction for all aspects of talent acquisition for the company. His leadership in the areas of recruiting process design and implementation, interviewing capability and design and process standardization ensures that the function continues to enable the business to hire the best talent in the industry.

.
Posted on September 4, 2013
Filed Under News | Comments Off on The World As I know It … Ambassador John Bolton Provides Brilliant Analysis
The global economy will breathe this situation as its oxygen …. ignore it at your peril
Posted on August 29, 2013
Filed Under Economics, Jobs, WebVideo | Comments Off on An Open Letter: "DEAR MINIMUM WAGE WORKER STRIKING FAST FOOD FRANCHISES FOR $15 AN HOUR"

DEAR MINIMUM WAGE WORKER STRIKING FOR $15 an hour,
I would support your cause for one week of pay at this wage if you promise to take an ECONOMICS 101 course to learn about supply and demand and diminishing returns. You see there are consequences for dropping out of high school, being in prison, and not learning to read or speak proper grammar.
MOREOVER, you see for every $1 increase in pay , several 100,000 of the most vulnerable in society lose their jobs. That's because when the increase in pay adds up to a new worker on the payroll in total, they will layoff to sustain the low profit margin franchisees make after paying licensing fees, regulations, rent etc to the McDonalds, Burger Kings and KFC. It means minority unemployment and High School students have higher unemployment. Why would they hire a no experience candidate when they can hire a special needs or elderly worker who will show up on time and work hard for the same wage?
Am I heartless? Well the Wall Street Journal confirms minimum wage increases are truly "slapping the vulnerable with kindness"
"Earlier this year, economist David Neumark of the University of California, Irvine, wrote on these pages that the 70-cent-an-hour increase in the minimum wage would cost some 300,000 jobs. Sure enough, the mandated increase to $7.25 took effect in July, and right on cue the August and September jobless numbers confirm the rapid disappearance of jobs for teenagers"
READ THE ACTUAL RESEARCH STUDY HERE
CAUSE: Ask what happened to Hostess Brands — the maker of such iconic baked goods as Twinkies, Drake's Devil Dogs and Wonder Bread … After the The Bakery, Confectionery, Tobacco Workers and Grain Millers International Union walked off on strike despite widely repeated warnings that doing so would directly result in the company's bankruptcy.
EFFECT: Hostess' nearly 18,500 workers will lose their jobs as the company shuts 33 bakeries and 565 distribution centers nationwide, as well as 570 outlet stores.
You See …. It's not meant to be a living wage. It's a "TRAINING WAGE" …. so good luck demanding more for your low skill, lack of proper education choices, or anti-social behaviors. Go back to school. Get a school loan, a grant, or learn a new trade in demand. I worked at $3.35 an hour in 1986 and it reinforced why I continued school. I hated it …. it convinced me I don't want to flip burgers. It was and should always be a temporary job. Now walk out on strike today, get fired and wake up from the agitators to learn that's the proper consequence. And …. don't be surprised when you lose a job going on strike demanding higher wages and your plant closes like the unions forced upon Twinkies Hostess. Learn Math too. And don't have several dads for your babies … have one, get married first … and stay in school.
Yours Truly "EL DAVE"
FACTS SUPPORTING A SEEMINGLY INSENSITIVE OPINION:
The Young and the Jobless: The minimum wage hike has driven the wages of teen employees down to $0.00.
Hostess' nearly 18,500 workers will lose their jobs as the company shuts 33 bakeries and 565 distribution centers nationwide, as well as 570 outlet stores. The Bakery, Confectionery, Tobacco Workers and Grain Millers International Union represents about 5,000 Hostess employees.

"We deeply regret the necessity of today's decision, but we do not have the financial resources to weather an extended nationwide strike," said CEO Gregory Rayburn in a statement.
« go back
—
Next Page »