Posted on April 16, 2007
Filed Under Czech Republic, Prague | Comments Off on Prague Sights & Sounds, Part 2 – Charles Bridge, Prague's Vibrant Cultural Life
By Dave Mendoza, Master Cybersleuh, JobMachine & Staffing Consultant, LinkedIn Corporation.

PART 2
THE JOURNEY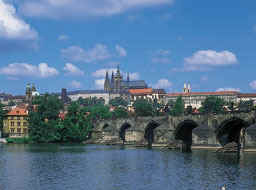 I left for Prague on March 26th, departing from Denver International Airport with a stopover at Dulles Airport in Washington DC before flying over the Atlantic. Dulles was more eventful than originally anticipated. As promptly as we boarded the United Airlines airplane, within 5 minutes we were told to evacuate, leaving our laptops and carry-on bags behind. We were informed that the fuel line to the plane had burst out fuel and flooded the area immediately underneath it. No sooner after they took measurements of the fuel line, it happened again. We were stranded for six hours with no access to our items, – no laptop to do constructive work, and no cell phone to alert my family of the delay. About 3 hours after they started to transfer customers to another gateway, but failed to load the luggage and catering until hours later due to admitted miscommunication issues. I managed to miss my connection flight via Heathrow and an all day tour of Prague and arrived in the late evening rather than the early morning as originally anticipated. A lesson in how NOT to assuage customer discontent: United crew members passed out notices we would each receive 'something' for our inconvenience. That 'something' turned out to be a pitiful $100 gift certificate to United Airlines to make due for the loss of one full day of my business and vacation excursion to Prague, and the nonrefundable tour. Needless to say, I won't be flying United Airlines again.
When I stopped at Heathrow, I refreshed my memory at how disorienting the experience could be. The signs failed to direct customers to the proper entry point for their next departure, – many passengers were asking questions. I managed to walk straight into the wrong wing. We were not informed that the United Kingdom has a one carry-on rule as opposed to two, and we all had to fumble to stuff two bags into one. I was surprised by how rude the attendants were at the airport. One woman rolled her eyes as an ederly woman asked questions and walked away muttering "How obvious could that be…" within two steps of her. I had to restrain myself from taking her to task. I sat for three hours and managed to hear the BBC's blatantly biased anti-American reporting as I awaited my flight. I was hungry but I wasn't in the mood to pay $2 USD for every pound sterling.
THE ARRIVAL
Once I arrived, by around the following day, I was pleased to find that the Renaissance Hotel, Prague, matched or exceeded my expectations beyond any prior European hotel I had visited before. The Czechs were exceedingly pleasant, far removed from the travel guide warnings about excessive need for tipping, – they resisted often, and followed up at each instance of any request to ensure their service met to my approval. The hotel restaurants were exquisite in traditional Czech delicacies and likewise above par in customer service. My only complaint, and an obstacle I faced throughout the remainder of my stay was the excessively high daily internet connection. 1mg of broadband was equal to $30 USD a day. I likewise saw a sign listing minute by minute charges at the business center to use their computers, but I managed to avoid the charge. The internet issue complicated my hopes to use my beloved skype to communicate with family as regularly as I would have preferred and acquiring a phone card was a task.
Showered, shaven and rested I walked through the lobby and out the doors into Prague nightlife through the Old Town (Stare Mesto) along the right bank of Vltava around Old Town Square to the 12th century Karluv Most, aka Charles Bridge, one of the most impressive sights, from a cultural and landmark perspective. It combines in unique fashion, its original Gothic influence with 30 ornate Baroque sculptures added over a period of 250 years throughout its length leading to the gateway up the steep roads and steps to Prague Castle, the world's largest.
Mississippi Blue Grass, on Charles Bridge ("Karluv Most")



Looking back from the bridge I could see the dome of St. Nocolas appearing between the two towers at the Western end of the bridge. Slightly curved, it spans the Vltava by means of 17 pillars, strengthened on both sides and forming 16 arches.

(** See Charles Bridge, WebCamera, click here.)
That evening and in the seven days following, I never lost an opportunity to breathe in the certain serenity in watching the varied forms of artists lining the bridge, cartoonists, photographers, musicians, and acrobats.
The following webvideos I took attempt to capture the sights and sounds of Karluv Most, Charles Bridge.
Girl From Impanema on Charles Bridge ("Karluv Most")



Bridal Party, Line up to Kiss the Future Bride on Charles Bridge ("Karluv Most")



More to Follow …
LinkedIn | Bio | MSN | Skype

Comments