Posted on May 28, 2010
Filed Under Awards | 1 Comment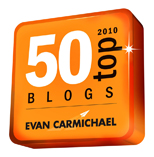 EvanCarmichael.com is the Internet's #1 resource for small business motivation and strategies. With over 500,000 monthly visitors, 5,000 contributing authors, and 100,000 pages of content, no website shares more profiles of famous entrepreneurs and inspires more small business owners than EvanCarmichael.com.
The Top 50 Human Resources Blogs To Watch in 2010
Hiring, firing, and everything in between – that is what this Top 50 blog list is all about. Chances are we have all been on the good end and the bad end of a human resources decision at one time or another. These bloggers are the best of the best in helping people make those tough decisions. So, whether you are looking to downsize, upsize, or create the most talented team you can, visit these blogs for advice.You can also view last year's list.
Comments